TO PROMOTE COGNITIVE LEARNING
Do you know the décor in your kids' bedrooms can directly impact their intellect? At Euro Design Build, we understand that every child is born with the capacity for imagination and creativity. Our design experts work with homeowners to bring good ideas regarding children's bedroom remodeling in Plano, TX.
We have partnered with the renowned Zlata Stankovic-Ramirez, an adjunct professor of early childhood education, to implement décor and design for kids' bedrooms that promote cognitive learning and development.
The Importance Of Making Your Child's Bedroom A Hub For Creativity
The learning process normally starts at home. So, it is imperative that every parent in Plano, TX, should ensure the environment in their kids' bedrooms is optimized for their mental development. At Euro Design Build, we believe that to promote cognitive learning, your kids' bedrooms should be designed to support tidying up and play, in addition to sleep.
Bedroom activity 1: Tidying up
Teaching your children to tidy up after themselves helps develop their social and motor skills. When they are at a younger age, you can organize yourself. However, experts in child development encourage kids to maintain order in their bedrooms.
One of your home's remodel ideas should include creating storage units in your kids' bedrooms to teach them to take responsibility for cleaning up after themselves. Our design experts can help you pick the right storage units that will optimize the use of the available space and provide easy access to books and toys. You don't have to spend a lot of money during this process.
You can choose from our wide variety of storage unit ideas, from wall-mounted shelving units to built-in cabinets to storage boxes. Our ideas include using simple materials and decorations to create additional storage units. Children with ADHD can greatly benefit from a room with ample storage units to help them learn organizational skills. Storage units in their bedrooms can also help minimize the mess they create.
Bedroom activity 2: Play
Play is a vital activity for children. It is fun and important for the cognitive, emotional, and social development of your child. One of the ways kids learn is through discovery. Play encourages them to use their imagination, explore, investigate, find out, and interact with the world around them.
Zlata Stankovic-Ramirez, who has a Ph.D. in Early Child Development, works together with our design experts and offers her expertise on incorporating a play area into the bedroom. The main aim is to create a setup that will encourage child interaction. She has more than a decade of experience in child development which she uses to help families pick out the right fixtures for their kid's bedrooms.
One of the ways we create a bedroom space that promotes cognitive learning is by including furniture that will encourage unstructured play to enable your kids to act out their play themes. We also encourage you to consider items that will engage your child's artistic nature. If you are moving into a new house, consider setting up the play area near a place allowing natural light to get into the room.
At Euro Design Build, we believe that your children should be involved in the process of the remodeling project. This will make them feel like their bedroom is independently owned, but they will take responsibility for tidying up after playtime and taking care of the furniture.
Bedroom activity 3: Sleep
Where your children sleep should be conducive to promoting a good night's sleep. Young children need enough sleep to help with their brain development and physical health. Our design experts discuss how different colors help establish a peaceful and calm environment to promote restful sleep during a consultation with us.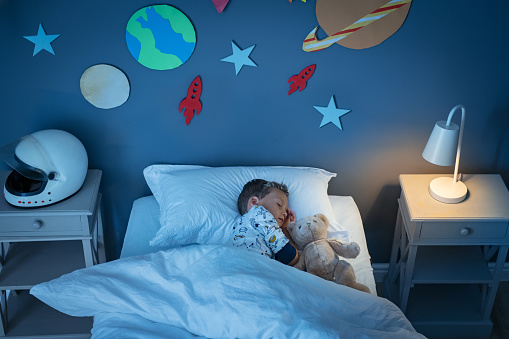 We don't help you pick the right colors for kids' bedrooms; we also advise which colors suit your Plano home. Our design team also does an amazing job setting a theme for the bedroom walls. Children need color in their lives.
Color helps to stroke your child's creative instincts and ignite their fantasies. Let us help you pick the right color theme for your kids' bedrooms, from the color of the walls to furniture color to beddings color.
Our design experts ensure that your children's beds are placed on a focal point to ensure they have a good view and leave enough room all around for other stuff. This allows you to make any changes as your children continue to grow to accommodate their changes in style and décor.
Home Remodel Considerations For The Rest Of Your House
Are you looking for bathroom remodeling or kitchen renovations to get your dream kitchen? Plano bathroom remodels, and kitchen remodels are among the hottest trends in the home remodeling industry. We have a team of contractors who work closely with a design expert to ensure residential homeowners in Plano, TX, achieve their dreams.
Our projects also include installing a fireplace and setting up home offices for your convenience. If you are looking to renovate or remodel your home in Plano, TX, let our Euro Design-Build team create your dream home based on your unique vision.
We assign a project manager present during the construction phase from the start date to the finish date. Also, you don't have to worry about us exceeding your budget plans. Our team of experts presents a proposal to homeowners to give accurate details on how much will be spent and how long the project will take. This enables homeowners to rest assured that their projects will be done on time helps them plan their schedules accordingly.
Why Choose Euro Design Build to Decorate Your Kid's Bedroom?
Are you getting ready to decorate your kids' bedrooms? We understand that children develop different preferences for different things, including their taste in style as they grow up. Our design experts don't just come up with unique décor for your kid's bedroom, but they also ensure the room can easily house your kid through his preschool to his teen years.
Working with an expert in child development helps our design team determine which services, materials, and tools can help promote your child's cognitive learning. Have your kid's bedroom remodeled with beautiful craftsmanship from our professionals at competitive prices.
You can trust Euro Design Build to do exceptional work in your kid's bedroom remodeling project as well as your bathroom remodel and kitchen remodels according to your budget. For more information about children's bedroom remodeling, schedule a consultation with one of our design experts or contact us today!
Showroom Hours
By Appointment Only
Monday – Friday: 8:30 am to 12:00 pm, 12:30 pm to 5:30 pm
Saturday & Sunday: Closed
DOWNLOAD OUR HOME REMODELING EBOOK!
Our remodeling ebook is filled with lots of inspiration to help you create your dream home!